Overview
An MOT is an annual test that every vehicle must have conducted annually. An MOT, or Ministry of Transport test, tests the safety and roadworthiness of your vehicle, to ensure it is fit for the road.
If you are in need of an MOT Reading and Henley drivers can contact Derry Motors today. Our team have years of experience, and can provide an honest evaluation of your vehicle. What's more, we offer a collection and drop off service. Being without your car or van can be frustrating, so we will work to make it as convenient as possible for you.
It is illegal to drive on the roads without a valid MOT certificate, and you could be prosecuted for doing do. At Derry Motors, our dedicated team will conduct a thorough check of various parts of your vehicle that are required in order for you to pass your MOT test.
As is standard, an MOT test should take around 45 to 60 minutes. This ensures Josh and the team can thoroughly check over your car or van.
An MOT will include checks of the following:
Your fuel system
Lights
Mirrors
Seatbelts
Windscreen wipers
And more.
If we find a problem with your vehicle, we will address this quickly, and will keep you updated along the way. We know that a quick turnaround time makes all the difference with an MOT. The team at Derry Motors offer a fast and reliable MOT test to make sure your car or van is road worthy as soon as possible.
If there is an issue with your vehicle which means it fails its MOT, we will provide you with a VT30 certificate explaining the issue, and we will work with you so we can fix your car or van and get you back on the road.
Helping customers across Henley and Reading
We've been doing it since 2009
A team you can trust
For an MOT Henley and Reading drivers can count on, give Derry Motors a call. With years of experience, we will ensure all the necessary checks are carried out to a professional standard, with a detailed analysis of your car or van's roadworthiness.
If there is an issue with your car or van, we will inform you and work on the issue on site to get you back on the road as soon as possible. Being without your vehicle can set you back, which is why we work efficiently to fix any issues as soon as we find them.
Derry Motors can conduct MOTs on cars of classes 4, 5 and 7. This covers cars, passenger vehicles, motor caravans and commercial vehicles weighing 3,000kg to 3,500kg.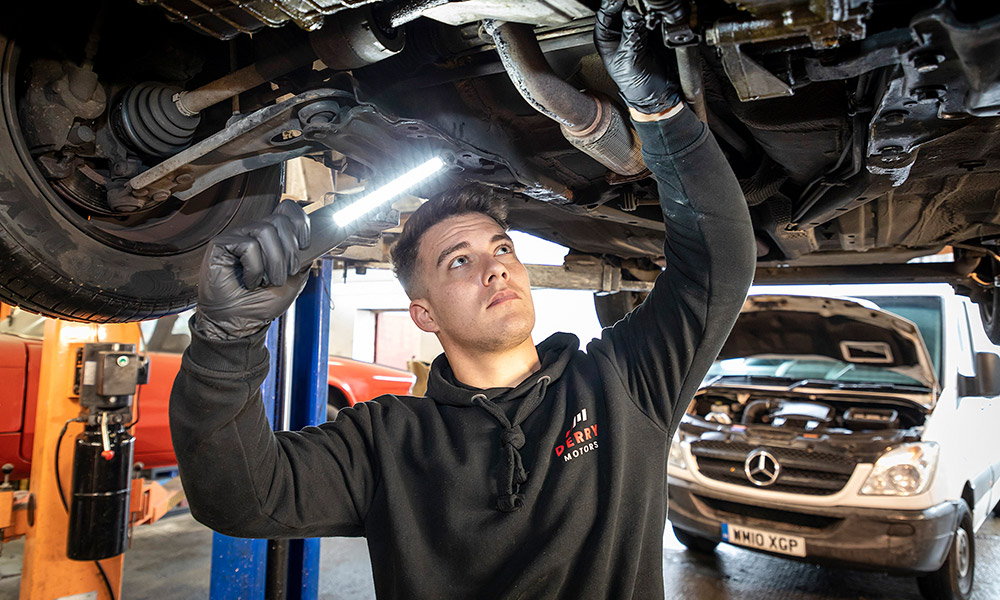 Ready to take on any job, any time.
Call and speak to one of our friendly staff.
Send Us a Quick Message
Need to book in your car for an MOT or have a question about our MOT service? Contact us today. Fill in this simple form and we'll get back to you as soon as we can.
Or Give Us a Call
Our opening hours are 8:30 am – 5:00pm Monday to Friday, and Saturday by appointment. If you have an urgent query or question about your vehicle, give us a ring and a member of our team will get back to you. For a car service from experts you can trust, call our workshop number.
07740 195206