Overview
Need reliable, professional tyre repair in Henley or Reading? If you are in the Henley on Thames area and your tyres are in need or repair or service, contact Derry Motors. With convenient working hours and fully accredited team, Derry Motors can offer the best Henley and Reading tyres, with same day orders available.
For Reading and Henley tyre repair you can rely on, reach out to the team at Derry Motors. Josh and his team can also provide a professional tyre service in Reading with trusted enthusiasts who love what they do, with years of experience. You can leave your vehicle in safe hands for van tyre repair and car tyre repair when you need it most.
If your tyre is repairable, we will offer this service first, so you aren't caught out with unnecessary prices. With honest advice from a team who are passionate about what they do, you can drive away with the best tyres for your vehicle that have been fitted with care. What's more, Derry Motors stock all tyre brands, and with the best tyre recommendations, you can make the right choice depending on your exact needs. Take the stress out of fixing your tyre, as we offer appointments for fitting Henley tyres or Reading tyres as well as a same day service. Say goodbye to timely setbacks, too, as we offer all new tyres on site.
If you've come to us for a general tyre fitting service, we'll assess the wear and tear of your tyres to make the best recommendations going forward. If you've suffered a puncture, we'll get to the heart of the problem right away.
If you've experienced unexpected issues on the roads with your current tyres, we'll make sure you can drive away with the right tyres for the job, properly fitted, with free balancing on all new tyres. 
With tyre options depending on fuel efficiency, price, and performance, we assess this to make recommendations as well as offer honest advice for tyre care and maintenance going forward. You can drive away feeling safe in the knowledge that your tyres have been fitted by an accredited team who truly know their stuff. 
Helping customers across Henley and Reading
We've been doing it since 2009
Same day Tyre Fitting
With same day fitting available, we're on hand if you're caught out unexpectedly. Derry Motors can supply and fit your tyres, with a tyre service including balancing as standard with all new tyres. With over ten years experience, Josh and his team can provide Henley tyres and Reading tyres to you so you can get back on the road.
If your car or van is showing signs of wear and tear, or you experience an unexpected puncture, Derry Motors are on hand. Whether you are in need of a tyre service for peace of mind, or need same day tyre repair in Henley or Reading, then contact us today.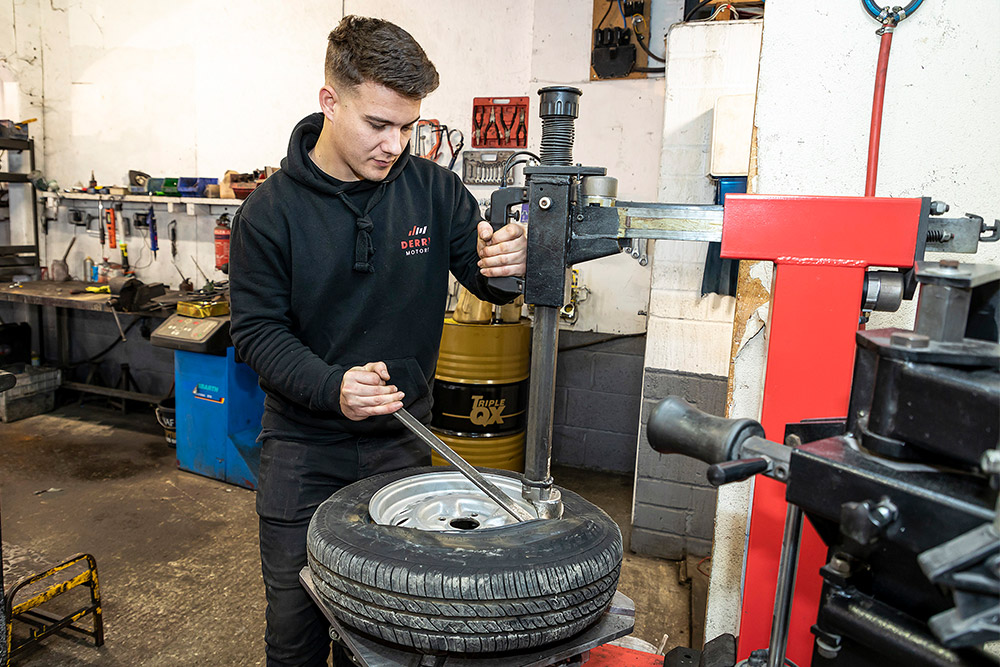 Ready to take on any job, any time.
Call and speak to one of our friendly staff.
Send Us a Quick Message
Need to book in your car for tyre fitting or have a question about tyres, contact us today. Fill in this simple form and we'll get back to you as soon as we can.
Or Give Us a Call
Our opening hours are 8:30 am – 5:00pm Monday to Friday, and Saturday by appointment. If you have an urgent query or question about your vehicle, give us a ring and a member of our team will get back to you. For a car service from experts you can trust, call our workshop number.
07740 195206